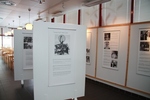 The Museum of Reconstruction for Finnmark and Northern Troms is currently showing the exhibition "Stunde Null". The exhibition is made by Nordkapp maritime fagskole og videregående skole (High school) and is based on their cooperation with high - schools in Riga and Hamburg. The students from Norway, Latvia and Germany have interviewed people who experienced the first years after World War 2. The exhibition is made up by text and photographs from the work they have done. The exhibition ends on May 1. Admission is free.
Les mer >>
Miss Landmine goes arctic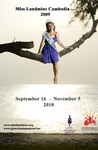 On thursday 16 September 2010 The photo exhibition "Miss Landmine Cambodia 2009" opens at The museum of Reconstruction. The artist behind the project is Morten Traavik and photographer Gorm K.Gaare. The exhibition is based on a beauty pageant where the participants are landmine amputees.The Photo - exhibition has travelled the world,stirring debates and enthusiasm since the project started in Angola in 2007.On the opening day there will be speeches by Traavik himself and the internationally acclaimed doctor of emergency medicine, Mads Gilbert. The museum hopes as many people as possible will find their way to the museum this day.
Les mer...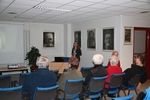 On the 24th and 25th of February, The Museums for Coastal Heritage and Reconstruction in Finnmark hosted the historian Vibeke Kieding Banik from The University of Oslo. Banik gave a speech on Norwegian-Jewish history. The speech was the first in a number of lectures that are to be held in our museums regarding the Holocaust, and is a result of our involvement in the Comenius project TeacMem.
LES MER {+}