Seadog Bamse
On Friday the 19th of June the statue of the sea dog Bamse was unveiled outside the entrance to the North Cape museum in Honningsvåg. The story of the St Bernard dog from Honningsvåg, who was stationed along with his owner on the minesweeper "Thorodd", has been the subject of great fame in Scotland. During the Second World War, the dog was seen as a true member of the crew. When the dog died in 1944 it was buried in Montrose, Scotland, with full military honours. More then 800 – young and old - attended the funeral. The statue commissioned by the municipality of North Cape is identical to the one erected in Scotland in 2006.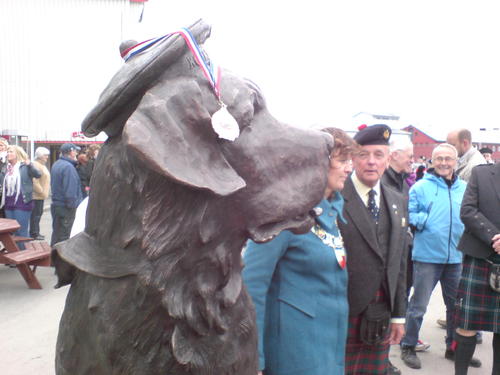 The dog Bamse came to Honningsvåg in 1937. From 1939 Erling Hafto, Bamse's owner and the captain of the then guard boat "Thorodd", was stationed in Tromsø. Bamse followed him on board.




When the Germans invaded Norway on the 9th of April 1940, "Thorodd" participated on the allied side in Northern Norway, until the King and a small following was transported to England. Bamse became famous in the navy for his bravery and his love and care for the crew. Pictures of Bamse wearing a sailors hat was sent to Norwegians all over the world, especially around holidays such as Christmas and the 17th of May, and many tales were told of his war efforts. Bamse stayed on board the "Thorodd" until his death in 1944.




A statue of Bamse was unveiled in Montrose, Scotland, on the 17th of October 2006. In 2008 a book about Bamse was released in English, and has sold especially well in Scotland. Read more...

The statue of Bamse in Honningsvåg is sponsored by the North Cape and Porsanger port authority IKS, The Norwegian Coastal Administration and others. The project leader on the Norwegian side has been Sigurd Berg Hansen.

Read about the unveilling in Honningsvag in Daily Mail

Thursday the 18th of June a model of the naval ship "Thorodd" was unveiled at the North Cape Museum. Kristian H. Skancke held a short historical presentation of the ship, with extra weight on the ships activities under the German invasion of Norway in 1940.




The museum is exhibiting the model of the ship and displays a small collection of photographs of Bamse.